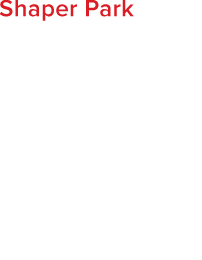 Shaper Park Interior Design

since established in 1994, has been in a non stop pursuit of knowledge and advancement in professional skills to provide our clients with services in interior planning, design, construction and project management. Prior to construction, we see the importance of planning and integration, during construction, we emphasize on the management and effectiveness of the site, after construction, we accentuate the importance of post construction services. We have been providing professional services to a growing number of international enterprises not just in Taiwan, but also in other countries throughout Asia, and have fully gained their trust and recognition. In recent years, many Taiwanese enterprises have slowly expanded into Mainland China, in August 2002, Shaper Park Shanghai branch was established to provide our clients with faster, more efficient service, and also to expand our services into the Chinese market.

With Tommy Yang, the general manager, leading Shaper Park's elite team of designers, we provide clients with the most professional spatial planning services. Under his leadership, Shaper Park continues to grow, conducting bigger overseas projects, and completing near a thousand designs and constructions, not only overcoming many different operation methods, but also reassuring international clients that Shaper Park can continually provide excellent service in integrating and communications, creating a more than expected business environment. Tommy always stresses "The end of a construction is the beginning of service", we do not only focus on providing clients with their needs, we emphasize even more on post construction services, using the most professional attitude to help and grow with our clients.

Understanding the client's needs, incorporating the company's philosophy and products into the design, and giving the space its own uniqueness is what we do at Shaper Park. In recent years, we have been studying to advance ourselves in integrating multi media and smart building technologies into our work, to break out of the traditional office designs and functions, and to create an upgraded and smarter space for our clients that is efficient in everyway.

Planning, Interior Design, Project Management, is Shaper Park's main profession; Intelligent, Integration, Environment, is Shaper Park's goal. Combining interior design with smart technology, we hope to create a more diverse and a more intelligent space for the clients.


Being able to incorporate the client's corporate philosophy, corporate identity and corporate products into design and planning has always been one of Shaper Park Interior Design's professional strengths. Since established, Shaper Park has worked with many internationally renowned technology-based clients in Asia, therefore obtaining a considerable amount of professional knowledge and application of intelligent products and of environmental awareness that many technological companies are currently putting great effort into promoting.

By always standing on the front line in contact with smart industries, Shaper Park has become the bridge between their technology and the market, transforming ourselves into a space conductor, integrating technology into space planning giving the space an even greater purpose. Through Shaper Park's space scripts, anyone can overcome the fear of unfamiliar technology, and easily adapt to a smarter environment. Through interacting with the space and learning the value of smart technology, the understanding and adaptation of the technology allows it to connect with the market, popularizing a smarter life.

Shaper Park uses space design to connect technology and the market, allowing the user to experience the technology, give feedback and make improvements, making intelligence smarter. Between technology and daily life, we strive to create and promote a smarter environment. Other than being the bridge between technology and the market, Shaper Park also coordinates and manages the chain of smart partners and clients at the same time.

Close to 20 years of experience in project managing, from frequent communications with the architectural industry, close co-operations with technology-based clients, study and application of the product with the engineers, and knowledge and understanding of the end user, Shaper Park Interior Design has further stepped forward into integrating intelligence coming from every industry, and through space planning and scenario design, every intelligence can be realized and used to its fullest.

Automated management systems are the key to an intelligent building, through e-control systems, building management can become an easy and convenient task. Through integrated applications accompanied by scenario design, each field of intelligence is linked together, and with interior design, a coherent relationship between the architecture and technology can be formed, presenting the potential of each intelligent product. This is where interior design shows its true value in the design of an intelligent building.

Because we can understand the language of each industry, whether it is used in business or everyday life, Shaper Park can play a management role in any project integration, coordination of different needs, intelligent system and space planning. With the project management abilities of Shaper Park, not only can there be fluent communication between each industry, allowing the project to progress more efficiently, the space created is also more cohered, simple, convenient yet highly efficient.

With every different project, Shaper Park can put its many years of experiences to use, executing integration through different perspectives, achieving the most ideal and effective space.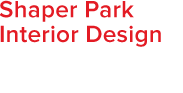 For a long time, Shaper Park has been constantly pursuing new knowledge and upgrading it's abilities and skills in order to self-improve and create greater value. We are committed to creating a better, more professional office space, bringing our clients the best business environment.

Through the practice of integrating spatial design and intelligent applications for the office, Shaper Park can professionally and meticulously conduct environmental design, from lighting design, height and placement specifications to color and material selections, all with careful calculations and discussion. Integrating chaotic and complex devices, overcoming distance limitations, establishing scenario controls, intelligent receptions and smart interactions, the efficiency, comfort and convenience of the business environment can be significantly improved. In the architectural space, the main design and style, integrating and linking e-control systems, central surveillance, energy management through IT controls, building management through digital controls that is more systematic and more convenient can be achieved through Shaper Park's strategic project planning. Shaper Park hopes to provide an optimized business environment, helping the user achieve greater benefits.

With global warming, energy conservation and carbon reduction can not be slowed even for one second. While conducting interior design and integration, Shaper Park sees the importance of reusable resources and renewable energy, carefully applying them in the designs, helping to achieve a more sustainable life.